Talking History with "The Race to the New World" Author, Douglas Hunter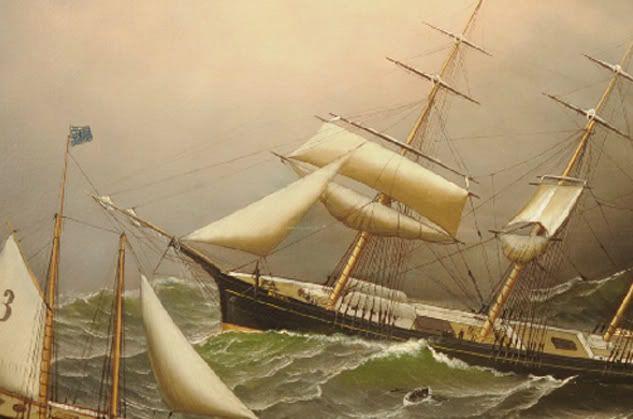 Few subjects stir the imagination quite like the Age of Discovery that opened up entire continents to Europe during the Early Modern Period.  Images of grand explorations, of Christopher Columbus, and of the world shaping changes brought on by Europe's expansion across the globe raise some serious questions and issues for historians to deal with; theoretical grist for the mill of history.  Fortunately, I have been lucky enough to talk to Douglas Hunter, author of a new book on this very subject, The Race to the New World, in my on going series of interviews with #twitterstorians and historians, Talking History.
Let's start at the beginning – what made you want to study history and what, specifically, drew you to the history of emigration?
My formal training is in art. I studied studio art and art history and graduated with a bachelor's degree way back in 1980, and I embarked on a career as a writer, a magazine editor, an illustrator, and a graphic designer. I went completely freelance in 1993. I don't know if art history was the start of an interest in history. It's always been there. My writing has ranged across business, the environment, sport, and history. As a graphic artist, I've done a fair bit of cartography, for my own books and other authors. In the case of Half Moon, the process of trying to create maps that were true to the geography of eastern North America circa 1609 actually informed my analysis of Henry Hudson's voyage.
Penguin commissioned from me a biography of John Molson, a teenager who emigrated from Lincolnshire in 1782 to found an eponymous brewery in Montreal that is now one of the major North American brands. It was published in 2000. It required immense archival work, and I suppose that also pushed my professional activities back into the 18th century. From there I just kept going deeper in time.
Over the years you have produced a good amount of published work that ranges from quite focused studies – your book on Henry Hudson, for example – to works that are much broader in their scope – your new book The Race to the New World being a good example.  What is it that drives you in such different directions when you choose to write? 
With the publication of The Race to the New World, I've completed a series of books on New World exploration that began with God's Mercies in 2007 and was followed by Half Moon in 2009. It took several years to research and write God's Mercies, which was about a traumatic convergence in the careers of France's Samuel de Champlain and England's Henry Hudson, and turned on the mutiny that claimed Hudson's life in 1611 and the fate of his son John. (It was the only non-fiction work published in Canada in 2007 to be a finalist for both the Writers' Trust and the Governor-General's prizes. I also like to say it was the only book that failed to actually win either one of them.) I did enough research to produce an entire biography of Hudson, but in the end chose to focus for the next book on the 1609 voyage that gave his name to the Hudson River, Half Moon. I felt like I spent as much time researching and drawing the maps in that book as I did writing it, as so much of the fundamental research already had been part of the God's Mercies project.
The Race to the New World wasn't a predictable next step. I had begun to look into the issue of claims of pre-Columbian discoveries of the New World. A lot of it is what I call crypto-history, a bit dodgy or fantastic, and it has routinely misappropriated or misunderstood Aboriginal relics like petroglyphs or pictographs to make outrageous claims. My doctoral dissertation is addressing the crypto-history phenomenon in this regard. At any rate, in the process of looking at claims to voyages preceding John Cabot and Christopher Columbus, I began to learn a lot about these two men, especially because of recent research efforts by the Cabot Project out of Bristol University and the efforts of the Repertorium Columbianum project which issued 13 volumes of Columbus documents, in their original language and in translation, between 1996 and 2004. There were other sources of course, and I saw that there many new things waiting to be said about them and their intertwined careers.
Unlike many historians you have a strong online presence, how have you found this has (or has not) impacted your work?
Certainly by the late 1990s the Internet was emerging as an important research tool. I live 2 hours from Toronto, outside a small town of 1700 people, and so anything I can get done online, even if by accessing a finding aid for a collection, is time and money saved.
Authors in trade publishing in the last decade have experienced increasing encouragement (and pressure) to develop an online presence as a way of reaching out to readers, but many academics have been doing the same as a way of networking and sharing information. I find the web useful for both.
How, if at all, has Twitter impacted how you reach out to the general public and other historians?
I enjoy Twitter. I try to be restrained about promoting my work. It offends me when others relentlessly pound away about what they've just written. I'm more interesting in connecting with new people, and I've been able to do so with writers, academics, and artists around the world.
Speaking of the general public, do you feel that historians are generally doing enough to spread their research?
Well. This is a burning issue. Some academic historians seem to be fretting that they've relinquished the popular field to arrivistes. I don't know that this is true. There are academics producing first-class work that is also embraced by the general public. I do know some that have come to embrace Wikipedia, reasoning that if the kids are there, they should be too, editing and contributing to the articles. Academics are sometimes criticized for failing to share, and you still hear stories of someone stealing from someone else. When I was working on The Race to the New World, more than one scholar told me I should be keeping what I was writing to myself, until it was published. To be honest, journalism isn't much different.
Academic historians have far more expectations to publish regularly than they ever have. Material is getting out there. The question I suppose is who is reading it. In North American doctoral studies at least, there is a high expectation that PhD dissertations are turned into books if that person wishes to advance their career and be considered for a decent teaching position. (For the record, I didn't undertake a doctorate in order to switch to teaching. I haven't really formulated an idea of what I expect to do with it when I'm done. It was an opportunity that arose and I felt I should take it.) Translating a dissertation into a book is an art unto itself. As a doctoral candidate I had a reading list of about 300 books for my course work in three subject areas. There were some really admirable works that fellow students and I enjoyed reading, which is saying something when you have a crushing reading list. But there were also books that were just a grind to get through. Not everyone writes well, and even people that write well need a good editor to crack the whip and tell them to go back and try something a different way. That may be one of the biggest hurdles to overcome. Academic publishers may put a manuscript through a peer review committee, but sometimes I wish there had been an editor with experience in a trade house who could also have sent the manuscript back for rewrites, not to juice it up, but to tackle basic issues of structure. Of course there are also books produced by trade publishers that have only a passing familiarity with fact and don't appear to have been touched by an editor's pencil.
Returning to the topic of your own work you have a new book that has just come to market, The Race to the New World – can you tell us about that, what are its main arguments, what did you learn as you wrote it?
I've covered some of its gestation earlier. Essentially I wanted to show that the careers of John Cabot and Christopher Columbus were far more entwined than has been considered, and that an enigmatic German, Martin Behaim, may have been a bridge between them. There were a lot of holes in the standard Cabot narrative that needed addressing. I have described this book as a work of historical provocation. Cabot's story had been stagnant for so long that I wanted to push a lot of new thinking and possibilities onto the table as it were, all at once. Even Columbus's story needed some fresh attention. Sometimes history requires a hefty shove to get the debate moving forward.
Beyond that, I was striving to get exploration away from a purely geographical focus, what I call the "snail trail" of historical presentation. Instead of reducing exploration to maps with squiggly lines purporting to show who arrived on what coast when, I wanted to return to essential questions of economics and politics as key contextual factors. Why for example did Cabot's voyages for England happen when they did? Unless you understand that the Venetian merchant galley service that carried luxury goods to England had been suspended, for example, you can't appreciate why his voyages even occurred.
Beyond that, as in the case of God's Mercies and Half Moon, I want readers to understand that the documentary record cannot be taken at face value. These explorers were often real operators, and they are fascinating characters. People lied, made things up, and did everything else people do today when trying to get ahead. They're often less heroic than 19th century nationalist histories portrayed, for example, but they're far more interesting.
Interestingly for someone working towards your PhD you have a publishing record that would make some qualified academics jealous! How did this situation develop?
Well, so far I haven't encountered much jealousy or hostility, and what little there has been I prefer not to dwell on, because it could happen in any profession. In fact, the reason I'm doing a PhD is that the director of grad studies at Canada's York University pitched me on the idea of returning to school. Although I don't have a master's, I was accepted on the strength of my body of work. I've been fortunate to meet a number of academics over the years that have been very supportive of my work, and in turn I've been of use to them. There's a whole appendix in the book Samuel de Champlain before 1604, published by McGill-Queen's University Press in 2010, dedicated to the connections I drew between Champlain's writings and the exploration and colonization ideas already put forward in print by England's Edward Hayes.
The bottom line is that I'm a writer. It's what I do, and I try to do it well. I have really enjoyed my doctoral work, but I don't believe a doctorate is the only prerequisite to writing good history. There's plenty of bad history inside and outside academia, and conversely plenty of good stuff.
As an expert in your field what is the one thing – the one lesson, if you like – that you would like to impart to the general public about your area of study
In general, what has always pleasantly surprised me is that, even with topics that one would think had been "done," there is invariably so much still waiting to be done. That's been true of Champlain, of Hudson, of Columbus, and of Cabot. In going back to primary sources and building a narrative from the ground up, I've just found all kinds of new things to say, new angles from which to view material, and connections to be drawn that hadn't been. That's been one of the key areas for me. With Champlain for example, there have been historians who knew lots about Champlain, and historians who knew lots about early English voyages to North America, but no one seemed to have synthesized them because the subjects had been "siloed" in specific disciplines. It pays to read horizontally, not just vertically, when doing research. The people you're writing about didn't live in boxes of specific disciplines, and so you have to try to break down barriers of study we have arbitrarily constructed. As an aside, the history of Indigenous peoples is too often lacking in the general narrative of North American history. I think anyone writing about economic development of natural resources for example should be familiar with treaties that conveyed title to those resources. Canadians as a rule know precious little about how vast swaths of territory ended up in the possession of their country.
Finally, can you tell the people reading this a bit about what you are working on now and what they can look forward to from you in the future?
I have a bit of a change in the pipeline. I'm just finishing a book about Tim Hortons, a fast-food chain founded in Canada in the mid-1960s that has about 3800 outlets in North America and is a business as well as a cultural phenomenon. It's a return for me to business writing, but with a large dollop of culture. (I won the National Business Book Award in 2003 for my study of the collapse of Nortel's high-flying stock during the dot.com implosion.) It will be published in the fall of 2012 by Harper Collins. I'm otherwise focused on completing my doctoral studies, which at this point is mainly researching and writing my dissertation. I have a couple other book ideas floating around, irons in the fire, but nothing I'm firmly committing to right now. I have a work in progress about a shipwreck on Georgian Bay in 1879 that stitches together the colonial experience with Indigenous peoples as well as surprising connections to the India Mutiny of 1857. It's a labour of love and I have no idea when I'll complete it.
Douglas Hunter's The Race to the New World is out now and can be bought by Click Here 
You can visit Douglas's website by Clicking Here