Talking History: An Interview with Mark Cheathem on Jacksonian American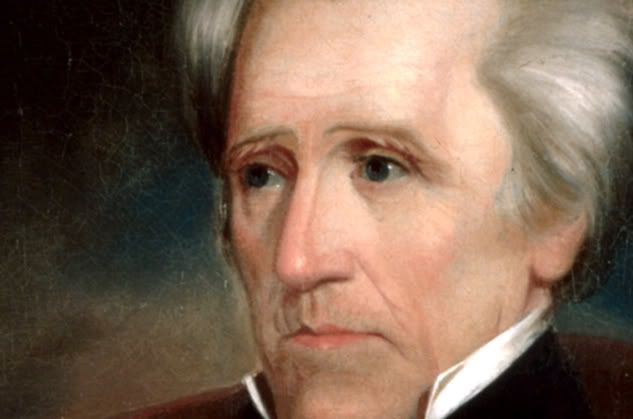 Welcome to the newest interview in my Talking History series where I interview historians and #twitterstorians about their work and the impact of the internet on the study history.  In this interview I talk with Mark Cheathem, associate professor of history at Cumberland University and author of Old Hickory's Nephew: The Political and Private Struggles of Andrew Jackson Donelson about his work on Andrew Jackson and Jacksonian America.  
Let's start at the beginning – what made you want to study history and what, specifically, drew you to Jacksonian America?
Growing up, I liked reading historical biographies and history-related fiction, so it seemed natural to pursue history as a college major. I actually started as a secondary education major with a history emphasis, became a history/English double major, then finished my undergraduate degree as a traditional history major.
My interest in Jackson arose from my undergraduate advisor, Monty Pope. Monty was a font of knowledge about Jackson, having worked for several years as a docent at The Hermitage,Jackson's home inNashville. He told great stories in class about Jackson's temper and petulance, which piqued my curiosity. James Parton's famous description of Jackson's paradoxical life and character also drew me to read more about Old Hickory and the period named for him. During the summer of 1995, Monty convinced me to work as a docent at The Hermitage. The rest, as they say, is history.
How do you find writing the history of a period so dominated by the image of one man – Andrew Jackson – that the period is named after him? Do you find this a help or a hindrance?
In thinking about United States history, it is unusual to have a period named after one man. We don't, for example, typically refer to the 1930s as the Age of Roosevelt or the 1860s as the Age of Lincoln.
At my current university, the Early Republic course is entitled "Jacksonian Democracy," which I find a bit limiting. (I prefer "Jacksonian America," which speaks of more than politics, but changing a longtime course title is a more difficult process than one might imagine.) That course title works at a Tennessee university, because many of our students are state residents and have some awareness of Jackson and The Hermitage. When I taught in New Hampshire, I chose the course title "Republicanism, Democracy, and Expansion, 1789-1845," which identified the themes I focused on in the course. Calling it "Jacksonian Democracy" or "Jacksonian Democracy" would have led to a lot of blank looks, I suspect.
But your question was about writing, not teaching. I don't find the label off-putting. My introduction to the period was as the "Age of Jackson," so I'm comfortable with the terminology, even if Daniel Walker Howe and others are not. It's no more misleading than many of the labels scholars use: the Great Depression, the Baby Boomers, the Progressive Era, etc., etc.
Unlike many historians, you have a strong online presence. How have you found this has impacted your work?
There are more historians with a strong online presence than you might think! Some of them, such as fellow EarlyRepublic historian Caleb McDaniel, have been around for years.
I first developed an online presence as part of various H-Net listservs. Having degrees from a small undergraduate institution and two non-elite state universities, I calculated that creating a different type of academic profile was going to be necessary to help me make professional contacts. In other words, while my advisor could help me make connections with historians in my field, the fact that I was the only Jacksonian/Early Republic historian in my Ph.D. cohort was going to make it more difficult to rely on the informal network that exists in most graduate programs. My experience with H-Net opened professional doors for me that probably would not have been available otherwise and convinced me to continue developing my online profile.
I started the Jacksonian America blog in July 2010 in order to give myself a public forum for talking about my research and other scholarly interests. I've been able to post original research and conference papers and discuss teaching challenges. The blog has taken different directions than I intended as well. For example, I briefly and unexpectedly became a high-profile advocate for libraries, archives, and their staff when I wrote about the effects of the state budget on the Tennessee State Library and Archives and acknowledged the assistance of librarians and archivists in helping academics accomplish their goals. It was satisfying to find that I was able to make a small difference when it came to raising awareness about issues that are far more important than researching Jacksonian politics.
How, if at all, has Twitter impacted how you reach out to the general public? 
When it comes to my professional interests, I primarily use Twitter to publicize blog posts. I also retweet links and information that affect the historical profession specifically and academia generally. I don't really know how much Twitter has helped me reach the public. I have a number of students and state politicians who follow me, so hopefully they read my tweets and links, which help them better understand the challenges and successes of historians and academicians.
Speaking of the general public, do you feel that historians are generally doing enough to spread their research?
That is such a tough question. On the one hand, I see many of my colleagues going out into the community and giving talks on their research interests, thereby reaching individuals who would never step foot on a college campus. If my colleagues are anything like me, they also discuss their research in class, so their students are aware of the symbiotic relationship between research and teaching.
On the other hand, I also know colleagues who have little patience for community outreach and see teaching classes as an interruption of their research time. Part of the problem, I think, is the inability of some scholars to make their research topics relevant and understandable to non-historians. To do so is demeaning, or so it sometimes seems from their comments.
My personal modus operandi is to use my research, which is primarily biographical in focus, to examine issues related to the Jacksonian period, United States history, and the human experience. If I can't make it understandable to my students or to someone who attends a talk at a local retirement home, then I'm doing something wrong.
Returning to the topic of your own work, I noticed that you had written a biography of Andrew Jackson's nephew. What drew you to this particular character?
During my summer stint at The Hermitage, I also gave tours at Tulip Grove, the home ofJackson's nephew, Andrew Jackson Donelson. He seemed like a fascinating figure, so I wanted to learn more about him. Fellow docents pointed out a couple of scholarly articles and a dissertation from the 1960s written about him, but none of them clearly or conclusively answered important questions that I had about Donelson's life. For example, how did the relationship between Donelson and Jackson change over time? How did Jackson influence his nephew's life even after Old Hickory died in 1845? How did Donelson make the transition from the Democratic party to the Know Nothing party, finally ending up in the Constitutional Union party?
When I started my master's program in the spring of 1996, I decided to write my thesis on Donelson's influence during Jackson's presidency. (It was minimal.) My advisor at Mississippi State, John Marszalek, was gracious enough to let me write my dissertation on Donelson's life. Bert Wyatt-Brown, Rand Dotson, and the LSU Press staff were willing to work with me to revise the dissertation into Old Hickory's Nephew, which was published in 2007.
Can you tell us something about the process of writing a biography? Did you find it a different process than writing other types of history?
To date, I've primarily written biographical history. In some ways, it seems easier than traditional history: at least the birth and death dates provide a definite structure. Biography has its own set of pitfalls, however. Good biographical writing requires a bit of armchair psychoanalysis. That can be problematic, since psychoanalysis by trained professionals is hard enough, much less that undertaken by someone like me. Finding a balance between narrating an individual's life and demonstrating his/her connection to the bigger picture of history is also difficult.
I think writing biography must be a bit like writing the military history of a war. You want to convey the ground-level experiences of battles, while avoiding piling on so much detail that you bore the reader. You also need to situate the battles within the causes, progress, and consequences of the war. The same is true of biography. Readers need to know the details of lineage, kinship, disease, and death, but not so much that they feel like they are reading a genealogical report. Biographers also have to place the individual within his/her times, helping readers understand how the individual influenced and was influenced by the period in which s/he lived.
Finally, can you tell the people reading this a bit about what you are working on now and what they can look forward to from you in the future?
I am currently completing a biography of Jackson that presents him as a southerner: land speculator, slave owner, planter, and patriarch. It seemed like an obvious interpretation ofJacksonthat needed to be written. Most historians depict Jackson as a westerner, but I think an historiographical reorientation is needed to help create a clearer picture of his role in the development of the antebellum United States.
I am also awaiting word on whether a university press is interested in commissioning me to write a book on the 1824 presidential election, an election about which no one has published a book-length study. I have also begun research on a book examining the Jackson family from Old Hickory's death in 1845 to the establishment of the Ladies' Hermitage Association in the late 1800s. Finally, I plan to write a book about the enslaved people who lived on Jackson's plantations, both during his lifetime and after his death, including their lives post-emancipation.
For more information on Prof Cheathem be sure to visit his blog at http://mcheathem.wordpress.com – His book, Old Hickory's Nephew: The Political and Private Struggles of Andrew Jackson Donelson is out now and can be purchased from Amazon.com