Best of 2012 (History and American Studies)
With 2013 almost upon us  I cannot think of a better time to have a look back at some of the (history and American Studies) articles, lectures, and podcasts I've posted over the past twelve months.  It's been quite an eclectic year, as far as this blog goes, with everything from frontier history to historic pop-culture analysis appearing on the site but hopefully this handy little guide will help point you towards a few of my favourite history and American Studies pieces that have appeared on this site.
#1 The Man Who Laughs: A History of the Joker
In this podcast lecture Batman's iconic nemesis – The Joker – is placed under the microscope.  This lecture examines how the Joker found his roots in the gang culture of the 1920s and 1930s before evolving to reflect the changing times -and fears- of the past century.
Direct Download (Right Click and Save)
#2 Understanding Daniel Boone
In this series of lectures Daniel Boone is the subject of our study. Start by listening to my complete reading of his autobiography and then follow-up that up with two lectures which look at the truth (and myths) behind that source
Download Boone's Autobiography from iTunes
Download Boone Lecture #1 from iTunes
Download Boone Lecture #2 from iTunes
Direct Download of Boone's autobiography (Right Click and Save)
Direct Download Boone Lecture #1 (Right Click and Save)
Direct Download Boone Lecture #2 (Right Click and Save)
#3 Star Trek and the Frontier
Frontier historians often reflect upon how the concept of a frontier in American history has changed and evolved over time.  In this post I look at how the 1960s television show Star Trek reflected some of those changes.
#4 Why Study the American Frontier?
In this post I reflect upon the reasons why I find the study of the American frontier to be so fascinating and compelling
#5 American Progress: Rethinking Frederick Jackson Turner
No one individual has cast a shadow over frontier (or American) history larger than that cast by Frederick Jackson Turner.  In this article I reflect upon why that is the case.
Remember and check back on the site regularly throughout 2013 as I've lots more history and American Studies content planned for the coming year.  My first new lecture will complete by Comic Book history trilogy and will hopefully be released within the first week of the new year and remember to follow me on twitter @ThatHistorian for all the latests history and American Studies updates and SUBSCRIBE to the podcast feed.  Happy New Year!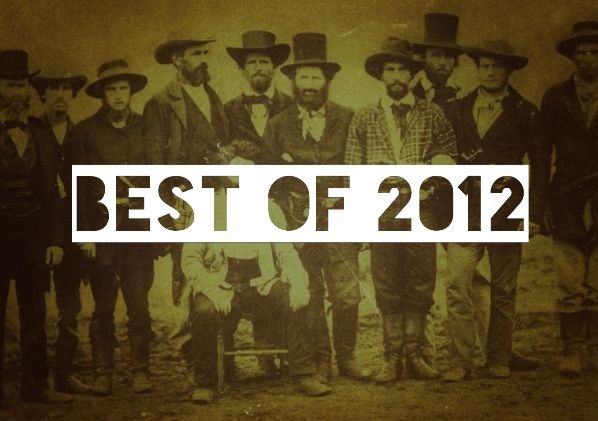 History and American Studies: Best of 2012 on http://www.darrenreidhistory.co.uk