Talking History – An Interview with Melodee H. Beals (#Twitterstorians)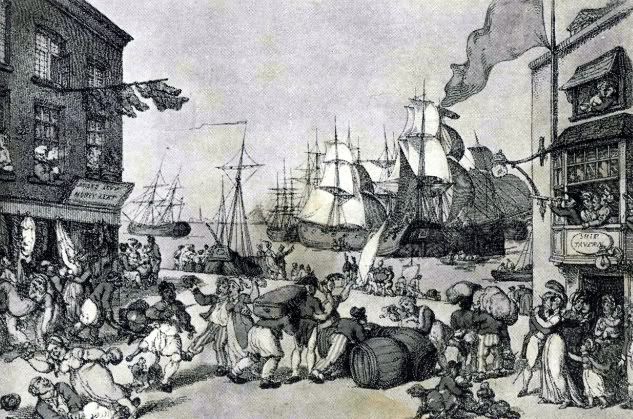 Continuing our series of interview with #Twitterstorians, Melodee H. Beals talks today about her research into Scottish migration.  A prolific historian, Dr. Beals' current book – Coin, Kirk, Class and Kin: British Identities Since 1707 – is out now.  I also strongly recommend following Dr. Beals' on Twitter (@mhbeals) and check out her excellent blog at http://www.melodeebeals.co.uk.  For now, please enjoy this excellent, passionate interview which provides many great insights into the historian's trade and the history of migration.
Let's start at the beginning – what made you want to study history and what, specifically, drew you to Scottish emigration in particular?
There were two main reasons why I wanted to study history. The first was the incredible experience I had studying history at secondary school. Although I had excellent teachers for most of my subjects, my history teachers were the ones that really challenged me at every turn, demanding I continue to improve, even if I had already secured an A. It wasn't enough that I knew the 'right' answer, I had to really understand the subject. The second reason was that in every history documentary we watched, the historians being interviewed always had ludicrously unkempt hair; these were the kind of people I wanted to work with.
How do you find writing history that is focused on one emigrant group? Have you ever been tempted to jump ship, so to speak, and look instead at the emigration of the Irish or French Huguenots, for instance, or the African Diaspora? What keeps you focused on your current field?
I love my Scots and, as tempted as I sometimes am to wade across the Channel or the Irish Sea, I always come back to them in the end. The history of Scottish migration is broad that I can flit from continent to continent, century to century, and never run out of new sources to explore. For example, having worked quite closely on eighteenth-century Atlantic pathways in the past, I have begun to shift my attention to nineteenth-century Australia; a bit of the old and a bit of the new. But that doesn't mean I don't read about other groups or speak with modern migration specialists to broaden my knowledge. Indeed, some of the work produced by the EU on contemporary migration patterns is absolutely fascinating (and you don't often here that said about government publications, do you?)
Unlike many historians you have a strong online presence, how have you found this has (or has not) impacted your work?
I think it has helped me be a more consistent researcher. I really love my teaching and sometimes find that I am neglecting my research entirely during term. Having the illusion of a voracious demography-mad web audience for my blog persuades me to spend at least one day a week researching and writing. It also means that I have a greater degree of control over my public image. Rather than rely on Google Scholar or JSTOR, I can make my work available via Academia.edu or my website. It has also kept me abreast of the best professional gossip!
How, if at all, has Twitter impacted how you reach out to the general public and other historians?
It has been an absolutely wonderful experience. Examining Scottish migration in the provincial press can be a very isolating pursuit. By sharing my work via Twitter and my blogs, I have 'met' dozens of postgraduate and amateur historians who are working on very similar projects; and these are people whom I might never have known about via traditional bibliographies and conferences. Moreover, the recent recognition of my blog by the History News Network seems to have really improved my professional standing and career prospects. Working as a teaching fellow in a Russell Group university meant my research outputs were less well known than my research fellow peers. Suddenly, people in my department who had had no idea what I researched are stopping me in the hallways to compliment me on my work. Likewise, my posting of works-in-progress has generated a much steadier flow of speaking invitations!
Speaking of the general public, do you feel that historians are generally doing enough to spread their research?
I think they are doing more than they realise; but, yes, we could always be doing more. Once people leave school, history remains a very popular subject in terms of television programmes and pleasure reading; so I think that much of our academic work, in some form or another, does transfer to the wider public already. However, I would love to see academic historians taking a much larger role in public history. Some people I have enormous respect for are the researchers for the Assassin's Creed video game series. They have done a wonderful job bringing well-researched, historically accurate entertainment to an extremely wide audience.
Returning to the topic of your own work you have a monograph available at the moment – Coin, Kirk, Class & Kin: Emigration, Social Change and Identity in Southern Scotland – can you tell us about that, what are its main arguments, what did you learn as you wrote it?
Coin, Kirk, Class & Kin was dedicated to my husband, but I think perhaps it should have also been dedicated to Joan Douglass, a nineteenth-century spinster from Jedburgh. When I was researching my Master's dissertation, I came across a letter from Joan that lamented, in the most pathetic rhetoric, how she had been abandoned, through death and emigration, by all her family and friends. I wondered if she were alone in this sentiment or if the emigration process had left a psychological scar on southern Scotland the way we believe it has on the Highlands. What I found was that between 1770 and 1830 there was a massive and passionate debate between farmers, artisans, churchmen, printers, writers, landowners and the aristocracy over the idea of emigration; more importantly, I found that contrary to the idea of a Lowland Clearance, it was the greater landowners who were the most vehement in keeping the Borderers at home. I also learned that I really loved working with provincial newspapers, which has led me to focus on them in my current project.
Can you tell the people reading this a bit about what you are working on now and what they can look forward to from you in the future?
My current project, Them and Us, There and Here: Demography and the Imperial Public Sphere before Victoria—what a mouthful—is an exploration of the emigration debate from a wider, imperial perspective. I am trying to understand how various forms of public discourse—editorials, letters, speeches, proclamations, broadsides, books, pamphlets—interacted across the English-speaking world and led to what we now consider the Age of Mass Migration. Too often, I think, we look at the post-Enlightenment public sphere as a national forum and do not really take into account that, without a press service or telegraph network, most international and colonial news was obtained by simply copying articles from international newspapers. They knew this and, if you look closely, you can see that they were absolutely speaking to each other, not just their readers at home.
As an expert in your field what is the one thing – the one lesson, if you like – that you would like to impart to the general public about your area of study
Parents will always worry about their children. For centuries, they have been writing to sons and daughters, who have moved abroad, reminding them to keep up their religion, eat well and, for goodness sake, wear a hat in winter.
For more from Dr. Beals please check out her excellent blog at http://www.melodeebeals.co.uk or follow her on twitter @mhbeals
One response to "Talking History – An Interview with Melodee H. Beals (#Twitterstorians)"